Ross Moquin and the Second Opinions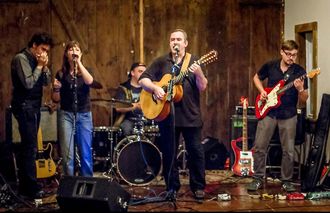 The  vocal musical project of neurosurgeon Ross R. Moquin, M.D.,
The Second Opinions are a  collection of colleagues, friends and and family members who add their musical skill and artistry to songs that have special meaning to us.
This purpose of Second Opinions project is for the pure joy of making music with friends and family, for our friends and families.
Mostly we are a studio band, but when given the opportunity, we have been seen to  take our show on the road, to make "house calls".
In December 2021, we released our first full length LP "Squonks and Underdogs'" .
A brief introduction to each of the tracks on the album and links to the music on YouTube follows.  The album is available on all major streaming platforms and on line stores.
Underdog
 David Pearce wrote the music and the lyrics  and is the featured performer.  This tune was a huge crowd favorite for David Pearce and Kevin Moquin's prior band The Jimmyriggers.  Unfortunately Underdog was never recorded in the studio by The Jimmyriggers .
The song is so good  that we had  to record it.  Due to the pandemic, recording had to be  a multinational event, through the magic of the internet.  The bulk of the work was done at the Smoke Wind Studio in Syracuse.   
Greg Pier, Physician Assistant colleague and well respected Syracuse Area musician  joined us for the recording.
Sepp Herbert of FeFe Entertainment joined us as the mixing engineer
 David Pearce- Lead Vocals, Acoustic guitar, bass
Kevin Moquin- Electric guitars
Rich Todero-     Drums
Greg Pier-          Backing vocals
Ross Moquin-   Organ
Greg Pier's other project -     Mandate of Heaven
https://mandateofheaven.bandcamp.com
The Happy Squonk
Kevin Moquin gave me a challenge to write and record a tune in 24 hours..... this tune is the result of that challenge. 
The synthesizer sounds come from one of my all time favorite songs, Squonk, by Genesis. 
A squonk is a mythical woodland creature, from the northern mountain woods of Pennsylvania.  The squonk is a rather miserable creature who is most often found crying.  When captured, it cries so much that it dissolves into a "pool of bubbles and tears".
A Happy Squonk is the most elusive of creatures.......
Plan Your Chaos
Many different sounds and rhythms coming together.  The melody came out of the chaos.
Nothing ever goes the way we predict.  Chaos is ever present.....plan for it. 
Rich Todero- Drums
Returning
This original song is about coming home after a deployment.  Feelings of returning back to the familiar warmth and comfort of normal life.
This song is dedicated to all those who go away from home to do the difficult and sometimes dangerous tasks that others cannot....or will not.
Un Canadien Errant (the Lost Canadien)