Ross Moquin and the Second Opinions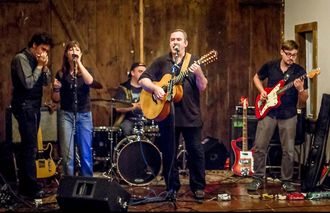 The  vocal musical project of neurosurgeon Ross R. Moquin, M.D.,
The Second Opinions are a  collection of colleagues, friends and and family members who add their musical skill and artistry to songs that have special meaning to us.
This purpose of Second Opinions project is for the pure joy of making music with friends and family, for our friends and families.
Mostly we are a studio band, but when given the opportunity, we have been seen to  take our show on the road, to make "house calls".
Lucky Man
On this tune, Kevin Moquin and the Bad Ideas help me with one of my favorite ELP tunes.  
No synthesizers were harmed during this recording!
It is actually a jam session, this was the second time the group had played the song together.  Just some musical fun after dinner......
Rivers
Rivers
Recorded with our friend and co-worker Meg.
This song talks of the how water is essential to the flow of our lives over time and place.
Meg's life has taken her to other places, but we hope to remain current and connected by the waves of sound.
Eyes of Ireland
A haunting song written by Andy Latimer of Camel.  It is a song about a grandmother's bedtime stories to her grandchildren.  She tells of her memories of leaving  Ireland. She sings of her views of the fading harbour, the Harbour of Tears.
My Irish grandmother never let us forget our Irish roots.
City of New Orleans
I wanted to find a song to record for my young grandson.  At the time, he was a huge fan of all manner of trains  He would spend hours riding on any  train that was available to him.  His fascination with trains was infectious.
This song is a cover of the classic tune celebrating yet mourning the loss of the 20th century train culture in the United States. It is about the train that goes from Chicago to New Orleans.  The people and geography that the train passes by are lovingly,  yet accurately described.
In today's polarized times, it is good to remember  what ties us together through generations, time and place.
Yes, the boy on the tracks is my grandson.
Un Canadien Errant (the Lost Canadien)